Day 01 :

Paro (Altitude: 1,800 - 5,400m approx.) :-

Paro is a beautiful valley located in Western Bhutan with an area of 2800 Sq. Kms. Breathtaking Lhakhang and monasteries are perched on mountain hills. Two sacred rivers with its respective source at Jhomolhari and Chumo phug mountains, makes their way through Paro valley enhancing its beauty and grandeur.

The Places you can visit are :

1. Rinpung Dzong (Fortress of the heap of jewels) : was built by Zhabdrung Ngawang Namgyel in 1644AD. It is the administrative seat of Paro District. The annual Paro festival is held here.

2. Ta Dzong : It was built as a watchtower. It was converted into a national museum in 1968. You can witness finest specimen of Bhutanese art, masterpieces of bronze statues and paintings
Day 02 :

Your Trek Begins (3 nights and 4 Days Druk Path Trek) :-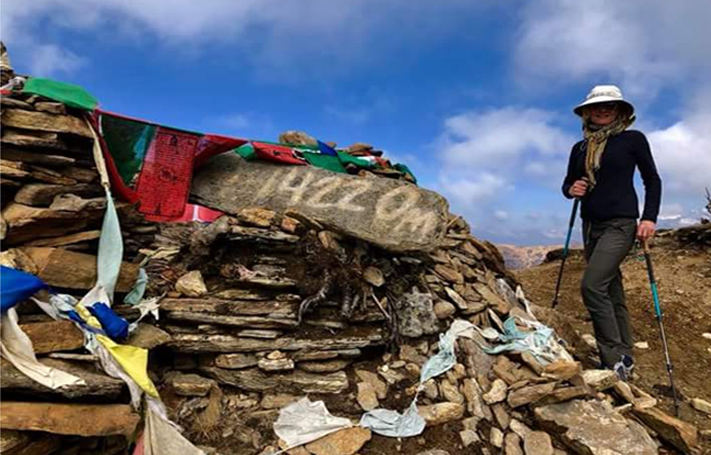 Paro - Jele Dzong (3,450 M) The first day of trek is a gradual climb from Dopshari, Paro at 2300 m above the sea level till 3450 meters at Jele Dzong. Camp the night at Jele Dzong and if the weather favors you can see Paro valley with Mt. Jumolhari (7314m) and snow capped mountains behind the valley. Camp site at Jele Dzong.
Distance: 10 Kms
Walking Time: 4-5 Hours
Day 03 :

Jele Dzong – Tshokam (3692m) ( March 19, 2018) :-

The trek starts with a short climb and then passes through a thick alpine forest of rhododendron and gradually climbs till we reach camp. You may see yak herders around your campsite. After 3 hr pass as possible campsite ( Dorjo Lakha or Jangchu Lakha ( 3770m). After another 1 hour climb, the better campsite. Tshokam , is reached , just after a small saddle. Camp site at Tshokam.
Prayer Flags on the way to trek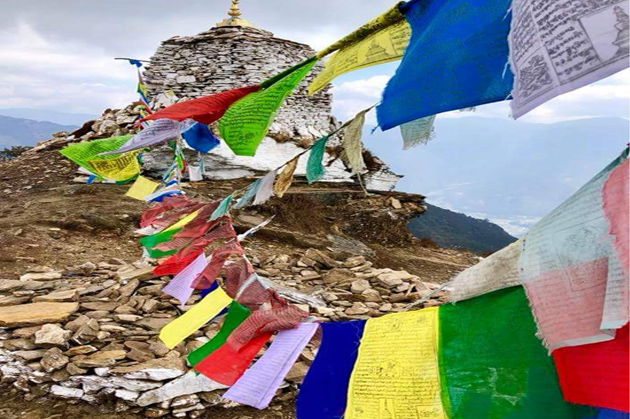 Distance: 5.5 miles
Walking Time: 6-7 Hours
Tragpoen encountered in the trek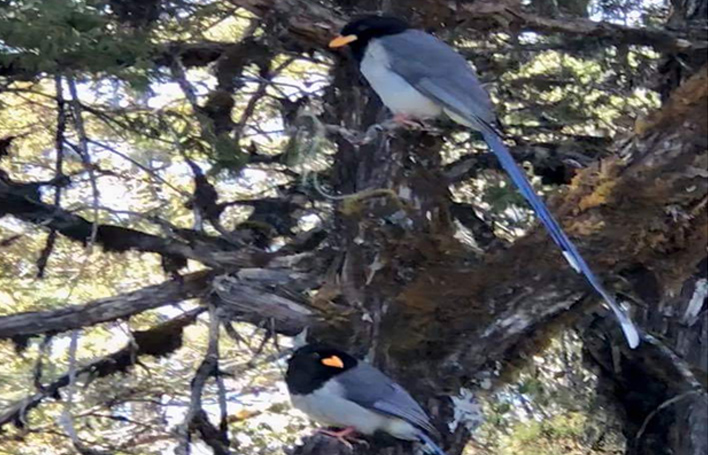 Day 04 :

Tshokam – Simkotra ( 4040m ) :-

The trek that we are following will be a gradual descend till we reach Pangrithang which will take us a little more than an hour where we will reach by the river then there is some steep climbing through bushes for two hours, after sometime a good view will open up and we will reach Jane tsho ( Lake)( 3956m). It is usually occupied by yak herders. Again we climb a gentle slope for an hour and after another two hours of trek we will reach our camp site . Camp site at Simkotra.
Phajoding Lake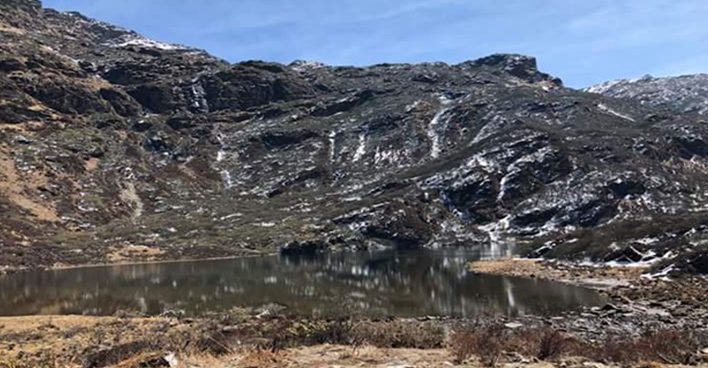 Distance: 6 miles
Walking Time: 6-7 Hours
Day 05 :

Simkotra – Thimphu ( 2340m) ( March 21, 2018) :-

The trail is good but there are few minor climb to small passes before you finally look down to Phajoding monastery and Thimphu. Monks frequently passes here on their way to meditate at the sacred lake Jimilang tsho. After almost 2 -3 hours trek we will reach the highest pass which stands at an altitude of 4420m. There is good view over the last part of the trek: a steep descent to Phajoding monastery. From here the trails starts with the steep descending slowly through thick forest for another 2-3 hours until we reach the motor road .From here , drive down to Thimphu, passing the Thimphu Zoo, where some Takins ( National Animal of Bhutan) can be seen. Then say good bye to trekking team and then drive to hotel. Overnight at 3 * Property at Thimphu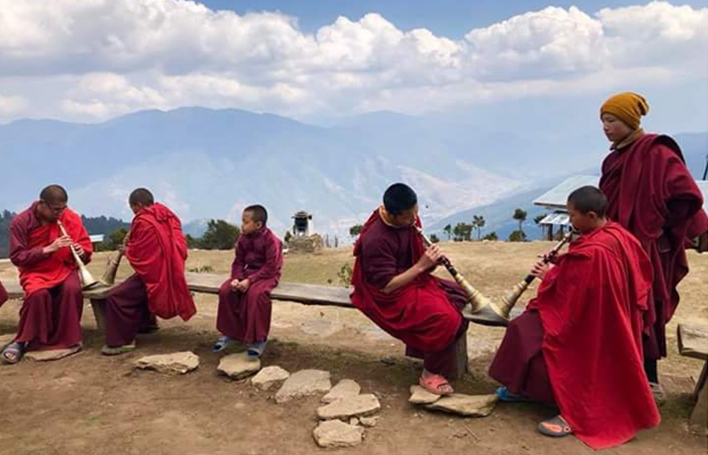 Distance: 8.5 miles
Walking Time: 6-7 Hours
View From Trekking Routes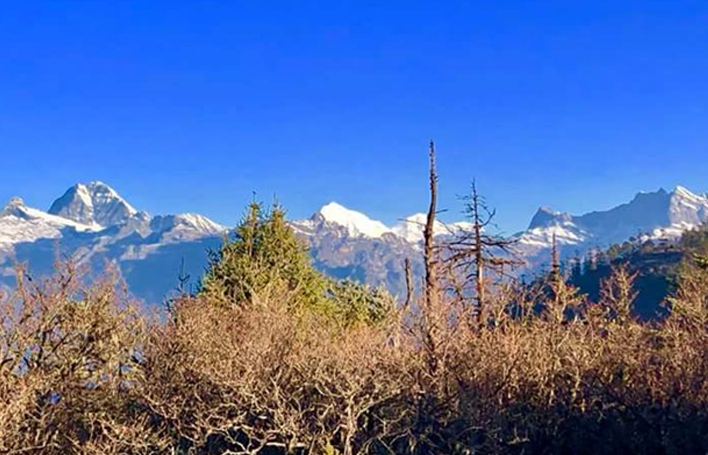 Day 06 :

Taktsang Monastery :-

The Taktsang, popularly known as the "Tiger's Nest" is perched on the side of a cliff at a height of 900m above the Paro valley. It is considered as a signature spot for the tourist. It is a Gem of a Paro Valley. Nestled up in a cliff, it is considered as one of the twelve wonders of the world.

After breakfast, drive to Ramthangka to hike up to the view point of Taktsang (Tiger's nest) (2950m). The round trip will take about two to three hours. The legend says that in the 8th century, Guru Rinpoche visited and meditated here for some time. The place now is one of the holiest pilgrim sites for the Mahayana Buddhist.

Drukgyel Dzong: was built in 1649 to commemorate the victory of Bhutanese over the allied Tibetan-Mongolian forces. The Dzong as a defense fortress is said to have housed the finest armory in the country.

Kyichu Lhakhang: It is one of the oldest and sacred monasteries in Bhutan. The construction of it dates back to the 7th century by Tibetan Emperor Songtsen Gyelpo.
Day 07 :

Departure :-

Departure from Paro International Airport or you can always choose to stay a day behind and go for a hike in Taktsang.